We are excited to have you as a Flagship Credit Acceptance customer! We strive to provide the best customer experience possible and look forward to servicing you for all of your accounts needs. Visit and bookmark our webpage www.flagshipcredit.com
Manage your account, no matter where life takes you.
Our self-service customer account
portal
is available
wherever and whenever you need it
.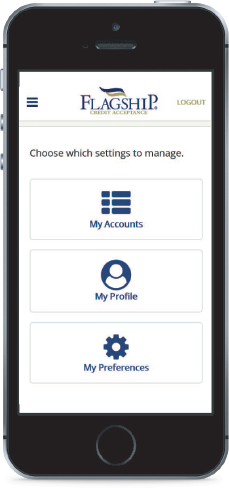 Visit our portal to register your account today and take advantage of all of our convenient customer features!
Discover
Set-up your
personal account management
dashboard.
Set it & Forget it
Sign up for
automatic payments
and say goodbye to one-time payment fees and late payments.
One-Time Payment
Make a one-time payment with your debit card, credit card, checking account or savings account via our
portal
.
*A processing fee is imposed for this third-party service.
Go Green
When you
register
to receive
electronic statements
, we'll send them to your inbox, not your mailbox.
Have a question?
Please take a moment to review our Frequently Asked Questions.
between the hours of 7:00am – 7:00pm CST Monday through Friday and 8:00 am – 5:00pm CST on Saturday to speak with a new customer onboarding specialist.