Have you ever wondered how many pounds of food you can buy with $600?
Flagship associates Lea Cassar, Dealer Relations Supervisor, and Rachel Schwartz, Project Manager, pooled donations from several team members to purchase 481 pounds of food for Flagship's annual November Food Drive in support of Feeding America.
COVID-19 has left millions of families without stable employment, and as a result, more than 54 million people, including 18 million children, are experiencing food insecurity. The need is not specific to the pandemic, but has grown in the past several months. Pre-pandemic, more than 37 million people struggled with hunger in America, including more than 11 million children.
Last year, Flagship's offices collectively raised 3,027 pounds of food and $675, equating to about 3,085 meals, for Feeding America at our Associate Appreciation Days. In March of this year, the Leadership Team provided 1,000 meals to 100 families in the Chester, PA region through the Boys & Girls Club of Chester.
Flagship associates are, in large, working from home at this time, and this year's Food Drive had a different approach than our usual piles of donations in lobbies: Team members in each of our three office areas were challenged to see which location could raise the most donations. The prize to the winning location was a $5,000 donation from Flagship to the winning site's local branch of Feeding America. This time around, the Food Bank of Delaware received Flagship's $5,000 donation as the Chadds Ford, PA office ended the contest with the most donations, 2,055 pounds of food, to be exact.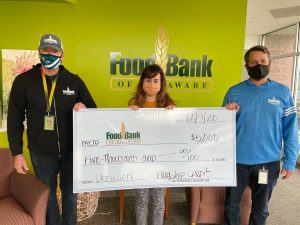 Associates like Lea and Rachel played a key role in helping us to surpass last year's donation amount and provide a total of 4,440 pounds of food to Feeding America in November. That's approximately 3,700 meals to feed people throughout our nation, the real winners of this year's contest.
Team members like Duane Robbins, Loan Servicing Director II, who, together with his wife,  made a personal donation of $800 to Feeding America, demonstrate that the power of serving others with compassion and generosity is at the heart of who we are.
Winston Churchill once said "We make a living by what we get. We make a life by what we give."
The secret of living is giving.
Each year, thousands of letters to Santa from children and families arrive at post offices across the nation. Most letters ask for toys and games, while others ask for basic necessities.
To keep the giving spirit alive, Flagship associates can participate in Operation Santa through USPS, which is a program that makes it possible for individuals and organizations to adopt these letters, pen responses, and send gifts in Santa's place. This year, for the first time ever, the program is 100% digital and nationwide, making it convenient for people to participate individually or with a team.
No matter how you might be lending a hand this season, never underestimate just how impactful your giving can be.