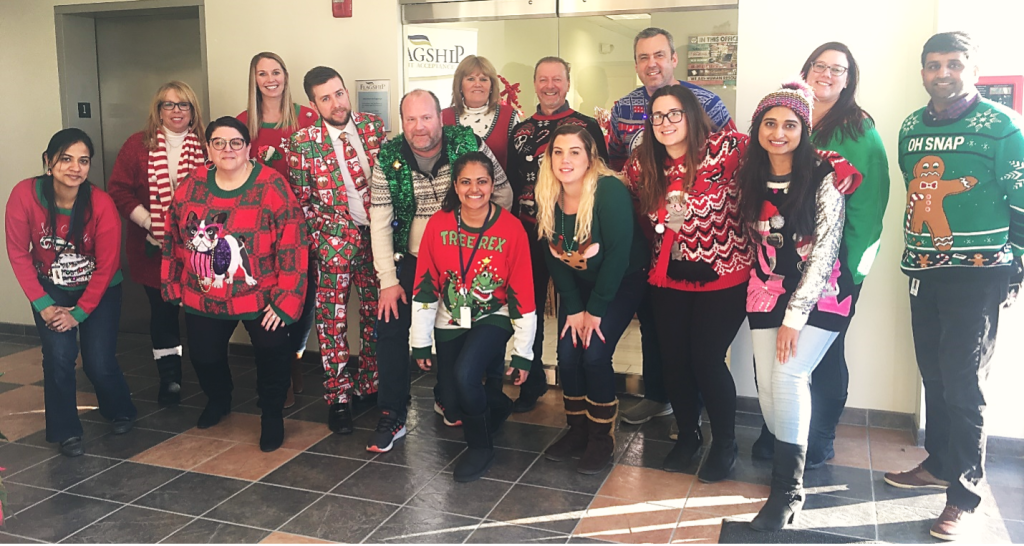 The end of the year brings a variety of different celebrations: Holiday parties and special dinners, cookie bakes and fun crafts, community projects, family traditions, and so much more. Flagship is grateful for the opportunity to honor its associates virtually for the second consecutive year with a variety of activities to say thank you and celebrate the Company's many wins in 2021.
Flagship's Diversity & Inclusion Council plans to host its first D&I Day in early December. In this activity, team members will have the opportunity to answer D&I trivia questions, with the first person answering correctly receiving a prize. This will take place throughout the day as a way to acknowledge the Company's D&I accomplishments over the past year. A grand prize will be awarded at the end of the day.
Team members will have an opportunity to participate in Flagship's annual Ugly Sweater Contest. The top three team members with the most "festive" holiday sweater will each receive a prize.
In mid-December, Flagship will also host a virtual raffle for each of its office locations in Chadds Ford, PA; Coppell, TX; Tempe, AZ; and for remote associates, where prizes will be awarded to team members per week until January of 2022. Winners will be selected at random and be announced weekly to all staff.
Flagship is also partnering with one of its Company-approved VTO charities, the Boys and Girls Club, to assist with their annual Adopt-a-Family program. The Boys and Girls Club of Delaware near the Company's Chadds Ford, PA office includes over 70 local families to participate in the initiative. Flagship teams will have the opportunity to purchase gifts for families virtually using Amazon Wish Lists provided by the Boys and Girls Club.
Similarly, USPS Operation Santa is a program that has been around since 1912 that allows people to anonymously buy and send families gifts for the holidays. For a second year, the program is going digital nationwide, with opportunity for Flagship teams to adopt families to send gifts to.
While Flagship looks forward to safely celebrating with its associates in person again, staying connected virtually has offered team members the chance to collaborate with others in different office locations and form new relationships that might not have been possible in a pre-pandemic world. This year, Flagship is celebrating the opportunities this has presented and all of the ways its associates have come together as a team.